Webinar: Research Spotlight: How 3 trainees are using CanPath data and biosamples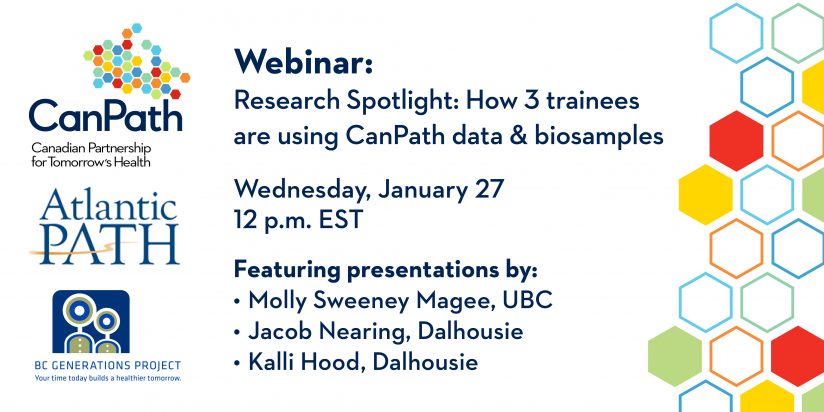 This webinar featured three exciting research projects that used data from two of CanPath's regional cohorts: the BC Generations Project and Atlantic PATH. This webinar also highlights how trainees and researchers can engage with CanPath.
Cancer diagnosis and health behaviour change: A prospective study from the BC Generations Project
Presented by: Molly Sweeney Magee
Cancer survivors are commonly in poorer health than members of the general population, with increased risk of co-morbidities and future additional primary cancers. It has been suggested that a diagnosis of cancer may prompt a change in behaviours key to reducing the risk of these health problems, such as stopping smoking, reducing alcohol intake, and lowering BMI. This study examined this claim by comparing change in smoking, alcohol consumption and BMI for those who were diagnosed with cancer and those who remained cancer-free between baseline and first active follow-up of the BC Generations Project.
View Molly Sweeney Magee's Presentation
325 KB
Download
About Molly Sweeney Magee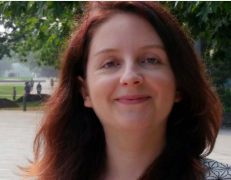 Molly Sweeney Magee is a PhD candidate at the School of Population and Public Health at the University of British Columbia (UBC). She is also a UBC Public Scholar, aiming to improve the application of academic research to real world public health issues. Her PhD work has primarily used BC Generations Project data to examine the role of health behaviours in colorectal cancer prevention and survivorship. Prior to her PhD, she worked as a Research Associate in health behaviour change at University College London. Her primary research interests include cancer prevention, health behaviour change, behavioural intervention design and implementation fidelity.
Investigating the oral microbiome for biomarker discovery in cancer using data from the Canadian Partnership for Tomorrow's Health
Presented by: Jacob Nearing
Advances in DNA sequencing have now allowed researchers to investigate microbes in their natural habitat at a community wide level. These advances have enabled researchers to uncover the vast implications that microbial communities (known as the human microbiome) have on human health including their relationships to various cancers. Using saliva samples from Atlantic PATH we have conducted one of the largest surveys of the oral microbiome to investigate factors that impact its composition. We are now using our findings to investigate the potential associations between the development of prostate, breast, and colorectal cancer and the oral microbiome using samples from both Atlantic PATH and Alberta's Tomorrow Project.
View Jacob Nearing's Presentation
2 MB
Download
About Jacob Nearing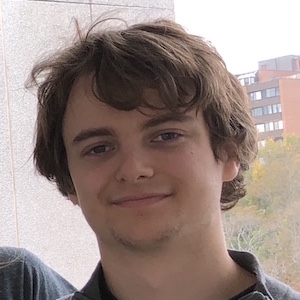 Jacob Nearing is a PhD candidate at Dalhousie University in the Department of Microbiology and Immunology working under the supervision of Dr. Morgan Langille. Since beginning graduate school, Jacob has published five papers including three first author publications. He has presented his work at several national and international meetings and received the best poster award at the International Human Microbiome Consortium in 2019. His research interests include interactions between cancer and the human microbiome, bioinformatics, virology, and data science. His work is currently funded through various scholarships including a Nova Scotia Graduate Student Scholarship and a Research Nova Scotia, Scotia Scholars Award.
Using toenail biomarkers to compare arsenic speciation and metallomic profiles in breast, cervical, prostate, and skin cancers: An analysis of the Atlantic PATH cohort
Presented by: Kalli Hood
The Atlantic provinces may be at higher risk of arsenic-related cancers due to the region's prevalent well water usage, high geological arsenic, and the age-standardized incidence rates of all cancer, which are the highest in country. This study used novel analytical techniques to measure total metals and arsenic speciation in toenails, an emerging biomarker for heavy metal exposure, and compare profiles between breast, cervical, prostate, and skin cancer cases and control groups. The findings indicated that arsenic methylation capacity, rather than total arsenic, and zinc concentrations may be an important biomarker for cancer.
*Please note that some unpublished findings have been edited out of this presentation.
View Kalli Hood's Presentation
763 KB
Download
About Kalli Hood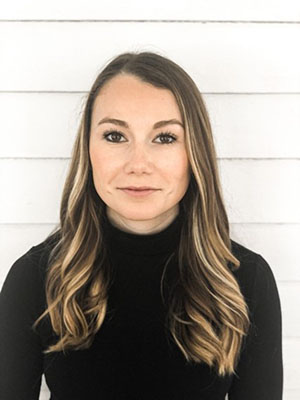 Kalli Hood (she/her) is a PhD student at the Centre for Water Resource Studies in Civil and Resource Engineering at Dalhousie University in Halifax, Nova Scotia. Her research is focused on drinking water quality, with a focus on lead and nanoplastics in the distribution system. Kalli previously worked at the Public Health Agency of Canada for the Centre for Chronic Disease Prevention and Health Promotion branch. She received her MSc in Community Health & Epidemiology from Dalhousie University in 2020, and her BSc in Physics and Mathematics from Mount Allison University in 2017.