CanPath Launches COVID-19 Initiative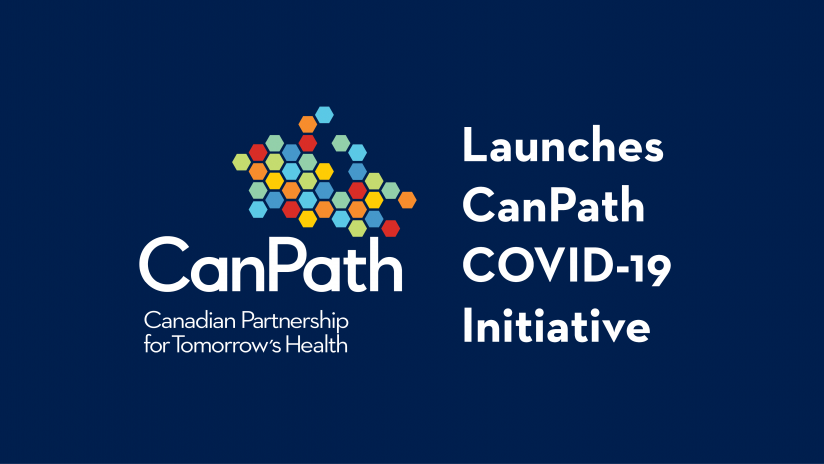 The Canadian Partnership for Tomorrow's Health (CanPath) is launching the CanPath COVID-19 Initiative to support national COVID-19 related research activities. As Canada's largest population health study, we have, over the past ten years, built a platform for population-level health research in Canada. We have worked alongside national and global partners to develop a COVID-19 specific questionnaire that will be distributed to over 420,000 CanPath and partner participants across Canada. In the absence of widespread testing, this data collection initiative will help measure the spread and severity of COVID-19 in communities across Canada.
The data collected through the COVID-19 questionnaire will build on previously captured data in the CanPath platform in order to determine the biological, societal and behavioural factors that affect susceptibility to COVID-19. By identifying the individual-level risk factors (genetic, environment, previous health history), we will enable public health officials and clinicians to be more targeted with prevention and treatment strategies.
"The ability to assess the spread and severity of the COVID-19 pandemic in the Canadian population is critical in our ability to inform a targeted and proportional response both now and for future outbreaks," said Professor Philip Awadalla, National Scientific Director of CanPath, Professor of Epidemiology at the Dalla Lana School of Public Health and Director of Computational Biology and Senior Investigator at the Ontario Institute for Cancer Research. He also serves as Executive Scientific Director of the Ontario Health Study.
Not only will the data collected through the CanPath COVID-19 Initiative provide real-time assessment of the prevalence of the virus, but it will also allow for the study of the socio-economic impact and long-term health outcomes of COVID-19.
A large, pan-Canadian population health study can play an important role in a pandemic, having the existing infrastructure to quickly implement projects like the COVID-19 research initiative, along with supporting baseline data and helpful linkages.
"Through CanPath's platform we are able to leverage major prior investments in Canadian population health research to enable the rapid deployment of a Canadian COVID-19 cohort. CanPath has already undertaken vital work to understand how behavior, genetics and the environment interact and lead to disease, and has the infrastructure required to rapidly capture the data and biospecimens needed to support COVID-19 control efforts," said Professor John McLaughlin, Executive Director of CanPath and Professor of Epidemiology at the Dalla Lana School of Public Health.
The CanPath COVID-19 Initiative is supported by all six of its regional Canadian cohorts: BC Generations Project, Alberta's Tomorrow Project, Manitoba Tomorrow Project, Ontario Health Study, CARTaGENE (Quebec), and the Atlantic Partnership for Tomorrow's Health.
CanPath is also collaborating with other cohorts in Canada and around the world. CanPath is a member of the COVID-19 Host Genetics Initiative and the International Hundred Thousand Cohort Consortium.
"CanPath has developed and will release an accessible COVID-19 data collection tool that is harmonized with national and global research guidelines, allowing other epidemiological initiatives to quickly deploy their own data collection activities and the potential to combine with other efforts to increase the statistical power and transferability of methods and findings," said Dr. Jennifer Vena, Scientific Director of Alberta's Tomorrow Project.
Who can participate?
Only current participants of CanPath's cohorts and partner cohorts will be invited to contribute to this study. Participants will receive communications directly from their regional cohort in the coming weeks and months regarding participation in the COVID-19 questionnaire.
However, The Manitoba Tomorrow Project is still in recruitment! Those who live in Manitoba and are interested in learning more or volunteering for the study can do so by:
Call toll free: 1855-588-0658
Interested in collaborating?
The CanPath team is committed to supporting and collaborating with other COVID-19 data and biological sample collection initiatives by sharing knowledge, protocols and tools. Please email info@canpath.ca to learn more.
For more information or to arrange a media interview, please contact:
Megan Fleming
Communications & Knowledge Translation Officer
Canadian Partnership for Tomorrow's Health (CanPath)
info@canpath.ca