Dr. Philip Awadalla represents CanPath at the Canadian Cancer Research Conference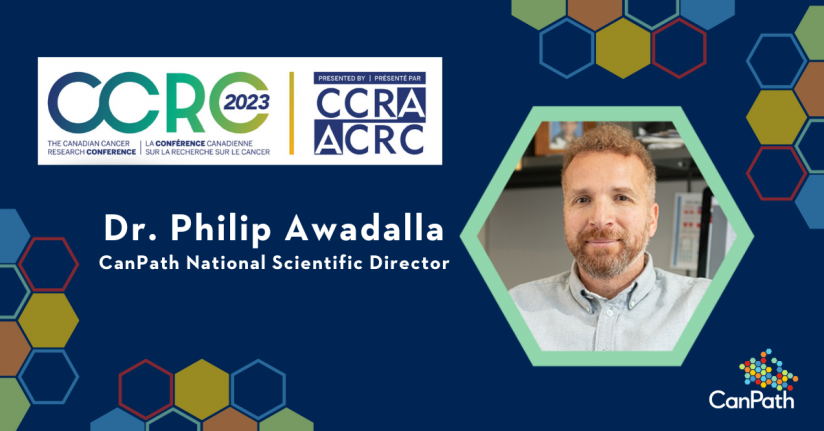 CanPath National Scientific Director Dr. Philip Awadalla will represent CanPath at the Canadian Cancer Research Conference (CCRC). Dr. Awadalla is also the Director of Computational Biology and Senior Investigator at the Ontario Institute for Cancer Research, Professor of Population and Medical Genomics at the University of Toronto, and Executive Director of the Ontario Health Study. His research interests include the development of genomics approaches, model-based tools, and population-based approaches to study mutation rates, genome biology, and cancer.  
Along with Patient Partner and Atlantic PATH participant Pauline McIntyre, Dr. Awadalla will chair a panel on CanPath: Canada's Largest Population Laboratory for Cancer Research on Monday, November 13, at 11:40 am AST. Presenters include:   
Dr. Dylan O'Sullivan (Alberta Health Services, University of Calgary) speaking about risk factors for early-onset colorectal cancer;
Dr. Samina Abidi (Dalhousie University) speaking about a digital health and artificial-based public health platform for cancer risk prediction;
Dr. Sara Nejatinamini (Alberta Tomorrow Project, Alberta Health Services) speaking about changes in breast and cervical cancer screening during the COVID-19 pandemic; and
Dr. Vikki Ho (University of Montreal, CARTaGENE) speaking about harnessing data to build a cancer prevention research program.
Dr. Awadalla will also represent CanPath on a panel chaired by Dr. Sherri Christian on Networked Cancer Research in Canada on Tuesday, November 14, at 9:00 am AST.