How CanPath data can support breast cancer research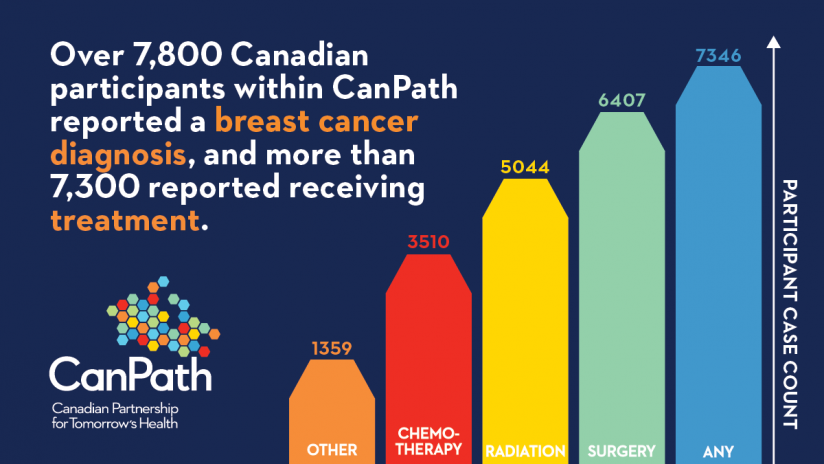 Breast cancer doesn't stop at the end of October, and neither does CanPath's commitment to working in partnership to prevent chronic disease and cancer and provide a platform for scientists to conduct innovative research.
Recent Publications
Newell and colleagues recently published in Current Developments in Nutrition about their study exploring the connection between different types of fats in the body and the risk of developing breast cancer. They wanted to understand how individual fatty acids might affect this risk, especially when factors like where a person lives, their menopausal status, and their waist-to-hip ratio are taken into account.
With data from Alberta's Tomorrow Project (ATP) and BC Generations Project (BCGP) participants, the researchers found that the relationship between fatty acids and breast cancer risk was quite complex! In premenopausal women in ATP, certain long-chain n–3 fatty acids seemed to be linked to a higher risk of breast cancer. But, for BCGP participants, other fatty acids, like DHA and total long-chain n–3 fatty acids, were associated with a decreased risk of breast cancer when the waist-to-hip ratio was below a certain level.
Their study underscores how the influence of fatty acids on breast cancer risk can vary based on where a person lives and other factors like menopausal status and body shape. It shows that predicting breast cancer risk based solely on fatty acid status is complex and may not provide a complete picture. Understanding these complexities is important for improving breast cancer prevention and treatment strategies in diverse populations.
Ongoing Projects
Dr. Jennifer Brooks, CanPath Executive Director, is utilizing CanPath data to support the Confluence project, which aims to build a large research resource of over 300,000 cases and 300,000 controls of different ancestries. The Confluence project is an ambitious effort to expand our understanding of the genetics behind breast cancer. While previous research has identified over 180 common genetic locations linked to the disease, it's clear that breast cancer is influenced by a complex interplay of many genes, each with small effects. The inclusion of CanPath in the Confluence project ensures that Canadians, including underrepresented minority populations, are well-represented in this international research effort.
Available Data
Over 7,800 Canadian participants within CanPath reported a breast cancer diagnosis, and more than 7,300 have reported receiving treatment.
Recent Webinars
Dr. Darren Brenner recently presented at a CanPath webinar about how early-onset breast cancer is biologically different from breast cancer diagnosed in older women. He utilized CanPath data to examine the impact of lifestyle factors, reproductive factors, and family and medical history on the risk of developing early-onset breast cancer.
With the help of seven regional cohorts, CanPath provides researchers with the necessary information to understand how genetics, environment, lifestyle, and behaviours affect and contribute to Canadians' development of chronic disease and cancer.
While this data is very personal, Canadians have said time and time again that they want their data used for research, to predict cancer earlier and improve treatment regimes. Thanks to rich data from over 330,000 Canadian participants and researchers' efforts, we're beginning to see real patterns, and we can help change the future of breast cancer!