CanPath Announces its 2023-2027 Strategic Plan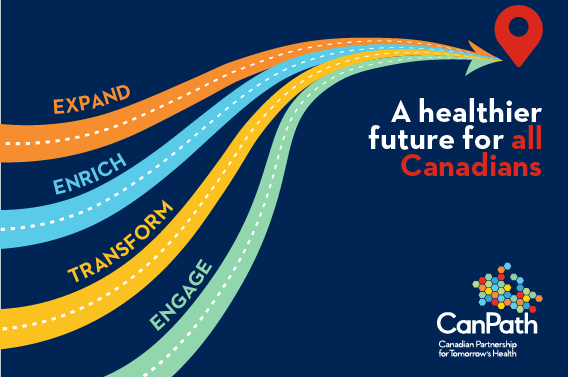 Read the 2023-2027 CanPath Strategic Plan
2 MB
Download
The Canadian Partnership for Tomorrow's Health (CanPath) is excited to announce its 2023-2027 Strategic Plan!
The four key objectives of this plan will guide CanPath's work over the next four years:
Expand the cohort by engaging more participants from underrepresented populations and identifying partners in regions not yet included
Enrich the cohort by linking CanPath data with data from provincial data holders and registries and collecting more longitudinal data
Transform the cohort by turning existing biosamples into data, collecting serial biosamples, and enhancing access to CanPath's harmonized data
Engage with key audiences and stakeholders, further enabling the participants' voices, and enhancing awareness of CanPath on national and international levels
Thank you for supporting our shared vision for a world without chronic disease and cancer. We extend our warmest thanks to our participants, researchers, and funders for all their contributions to population health. With your support, we have been solving some of the biggest health challenges in Canada since 2008!
The team is excited to be taking these new steps forward following CanPath's exciting achievements over the past few years, such as:
While the 2017-2022 Strategic Plan aspired to leverage CanPath's assets to achieve optimal cohort value, this new 2023-2027 plan aims to expand and enrich the platform while promoting CanPath's key contributions to the Canadian health research landscape.
To learn more about some of CanPath's research achievements over the years, check out this video on how CanPath data enables scientific discoveries.
Read the 2023-2027 CanPath Strategic Plan
2 MB
Download