Canadian Partnership for Tomorrow governance update
Governance structure, key elements of study design now in place

The Governance Committee of the Canadian Partnership for Tomorrow Project will be chaired by Dr. John Potter and includes distinguished Canadian and international cancer experts.
Dr. Potter is senior advisor at the Fred Hutchinson Cancer Research Center in Seattle, Wash.
The study design has been moving ahead rapidly since the multi-partner project was announced in June.
Decisions have been made on the types of information and samples to be collected from participants.
Participant information brochures and consent forms are in place. These include common elements to ensure that data and samples can be moved across provincial and national boundaries for future research.
Procedures for collection and storage of biological samples and data have been established.
All regional cohorts have submitted their protocols for ethical approval.
Standard operating procedures for physical measure protocols and biological sample collection have been approved.
Launch of Canadian 30-year cancer prevention study
June 11, 2008, Montreal – Today marks the official launch of The Canadian Partnership for Tomorrow Project – a study of 300,000 Canadians that explores how genetics, environment, lifestyle and behaviour contribute to the development of cancer.
The largest of its kind in this country, the pan-Canadian study will track randomly selected Canadians (ages 35 to 69) for at least the next 20 to 30 years. It will gather information on health and lifestyle through surveys and the collection of blood and other specimens. The information will help researchers, policy-makers and others understand how different combinations of risk-factors lead to cancer.
Looking ahead
The next stages for the project include the following:
Specialized software is being developed to compile data on physical measures. This software will ensure that information from different cohorts can be combined to form a sample that is large enough to further existing knowledge on the causes of cancer. A trial version of the software will be available in autumn 2008.
Participant recruitment is expected to begin in several regions in December 2008.
Governance committee members
Chair: Dr. John Potter
Dr. Heather Bryant
Vice-President, Cancer Control, Canadian Partnership Against Cancer
Dr. Elizabeth Eisenhauer
Chair of the Partnership's Research Action Group
Dr. Robert Phillips
President and CEO, Ontario Cancer Research Network
Dr. Elio Riboli
Head, Division of Epidemiology, Public Health and Primary Care, Imperial College, London, U.K.
Dr. Elaine Ron
Senior Investigator, Division of Cancer Epidemiology and Genetics, U.S. National Cancer Institute
Dr. Johan (Hans) van de Sande
Vice-Dean, Faculty of Medicine, University of Calgary
Project principal investigators
Dr. Richard Gallagher
Head, Cancer Control Research Program
BC Cancer Agency
Dr. Bartha Maria Knoppers
Professor and Senior Researcher, Centre for Public Law
Université de Montréal
Dr. John McLaughlin
Vice-President, Population Studies and Surveillance
Cancer Care Ontario
Dr. Louise Parker
Professor, Pediatrics and Community Health and Epidemiology
Dalhousie University
Dr. Paula Robson
Principal Investigator, The Tomorrow Project
Alberta Health Services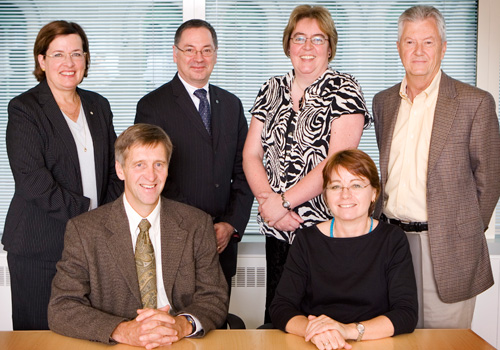 Back row (left to right): Dr. Knoppers, Dr. Benoît Lussier (Program Director, Partnership's Research Action Group), Dr. Robson, Dr. Gallagher
Front row: Dr. McLaughlin, Dr. Parker
About the project
The Canadian Partnership for Tomorrow Project was announced in June 2008.
It is building on the successful foundation of the Alberta Health Service's Tomorrow Project. The Alberta project is exploring the effects of cancer risks and preventative factors over time.
Now expanding nationwide, the project aims to collect health and lifestyle information from a randomly selected group of 300,000 Canadians. This group will be asked to complete questionnaires and provide biological samples over the next 20 to 30 years.
The Canadian Partnership for Tomorrow Project is being driven forward by the Canadian Partnership Against Cancer and partner organizations in five regions: the BC Cancer Agency, Alberta Health Services, Cancer Care Ontario with the Ontario Institute for Cancer Research, Quebec's CARTaGENE project, and Cancer Care Nova Scotia and Dalhousie University collaborating for work in the Atlantic Provinces.
The results will help researchers, policy-makers and others understand how different combinations of risk factors lead to cancer and will serve as an important legacy for future generations.