Cohort Profile: The British Columbia Generations Project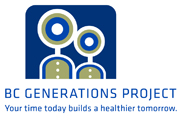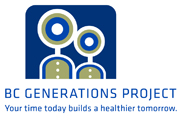 The British Columbia Generations Project (BCGP) is a prospective, population-based cohort study hosted at BC Cancer that is examining the effects of environmental exposures, lifestyle and genetics on cancer and other chronic diseases. The cohort was profiled in the April 2019 issue of the International Journal of Epidemiology.
Between 2009 and 2016, close to 30,000 British Columbians between 35 and 69 years of age were recruited to provide health data, physical measurements and biological specimens for up to 50 years. Researchers combine this information with four other regional cohorts from across Canada — collectively known as the Canadian Partnership for Tomorrow Project (CPTP) — which opens the door for a plethora of high-quality population health studies, ultimately resulting in earlier disease detection and new prevention strategies.
"A major strength of BCGP is that it is nested within the pan-Canadian CPTP where we pool health data from British Columbians with that of more than 300,000 Canadians, allowing us to capture a variety of environmental exposures, lifestyles and genetic backgrounds," said Dr. Trevor Dummer, the study's senior author who is Co-scientific Director of the BC Generations Project.
This large sample size allows researchers to study rare environmental exposures and health outcomes, as well as gene-environment interactions. Dummer also explained how this collaboration among Canadian researchers enhances the sharing of expertise and resources and elevates Canada's global research status, with a large harmonized dataset available to researchers around the world.
"There are tremendous global benefits to this research, but local impact is critical to success. Our study links information from the B.C. cancer registry with administrative health data, which means that the interactions a participant has with the health system are seamlessly captured and available for analysis – a gold mine for health researchers," said Dummer who is also an Associate Professor at the University of British Columbia.
Some key cohort findings include:
The current BCGP cohort size is 29,796.
Women and individuals with higher levels of education make up a larger proportion of the BCGP cohort compared with the general population.
The cohort has an older age distribution of individuals
At enrolment, a greater proportion of BCGP participants reported having had various chronic diseases, including, arthritis, asthma, depression, and irritable bowel syndrome (IBS), compared with the general BC population of the same age range.
In 2011, breast, lung, colorectal and uterine carcinomas and cutaneous melanoma were the cancers with the highest incidences among British Columbian women aged 35–69 years.
Prostate, lung, colorectal and bladder carcinomas and cutaneous melanoma were the most common cancers among men of this age group.
The cohort largely comprises current non-smokers who are not exposed to second-hand smoke at home.
Most participants drink alcohol no more than a few times a week and consume five to six servings of fruits and vegetables.
To learn more about BCGP and to apply to access the data, visit the website or watch CPTP's first webinar recorded on June 11, 2019 – One billion pieces of data and growing: Canada's Living Population Laboratory Overview, Case Studies & Access Guide.